Content for the Entire Customer Journey
Great content should achieve user and business objectives. As a Content Strategist, I strive to create work, processes, and systems to achieve both. Here are selected examples that express the breadth of my experience.
These projects encapsulate content strategy, creation, governance, migration, and programmatic solutions to help build and manage effective content.
Puppet Corporate Site & Blog (2018-present)
Sustained page domain authority, increased time on page, support product launches, increased page conversions, and lowered time to development
I lead an agile, cross-team practice that produces and manages content for the Puppet Corporate Site. This content includes Product, Marketing, and user-generated assets. As a multi-product company, I ensure that the right positioning represents each product in an educational way.
I'm a firm believer that corporate sites can be complex and political. To keep decision-making solid and timely, I make sure the right metrics and feedback are available and accessible, so everyone knows why we build the site the way we do.
We can get to decisions that help us optimize how we use this website to drive organic traffic while serving users looking for information about the company and its products.
Driving Organic Traffic and Product Downloads
We launch major product releases multiple times a year and need to have the site ready to inform the press, users, buyers, and the Puppet community of what's new. I work cross-functionally with Products, Support, and Sales Enablement to ensure our product content informs, educates, and inspires folks to try Puppet.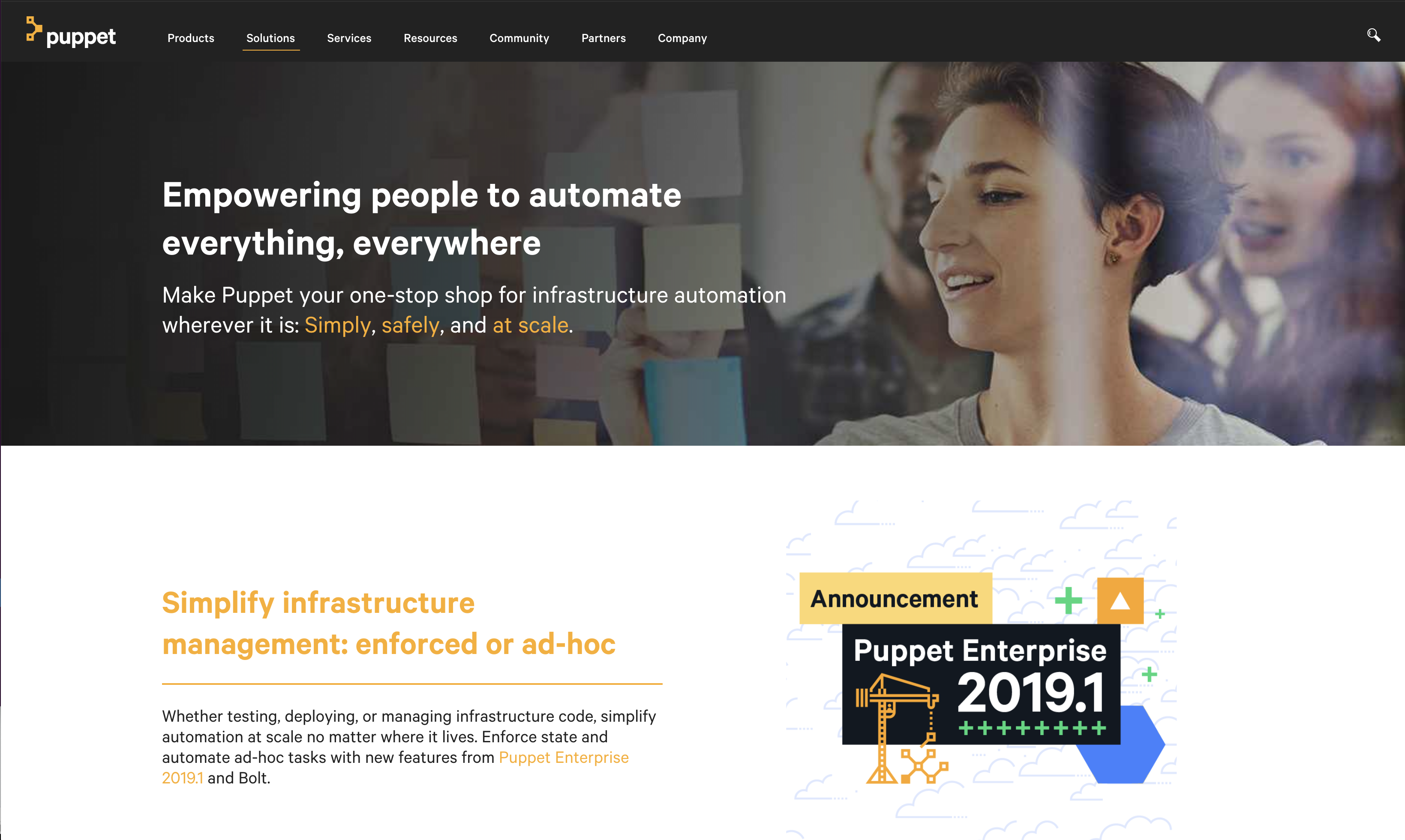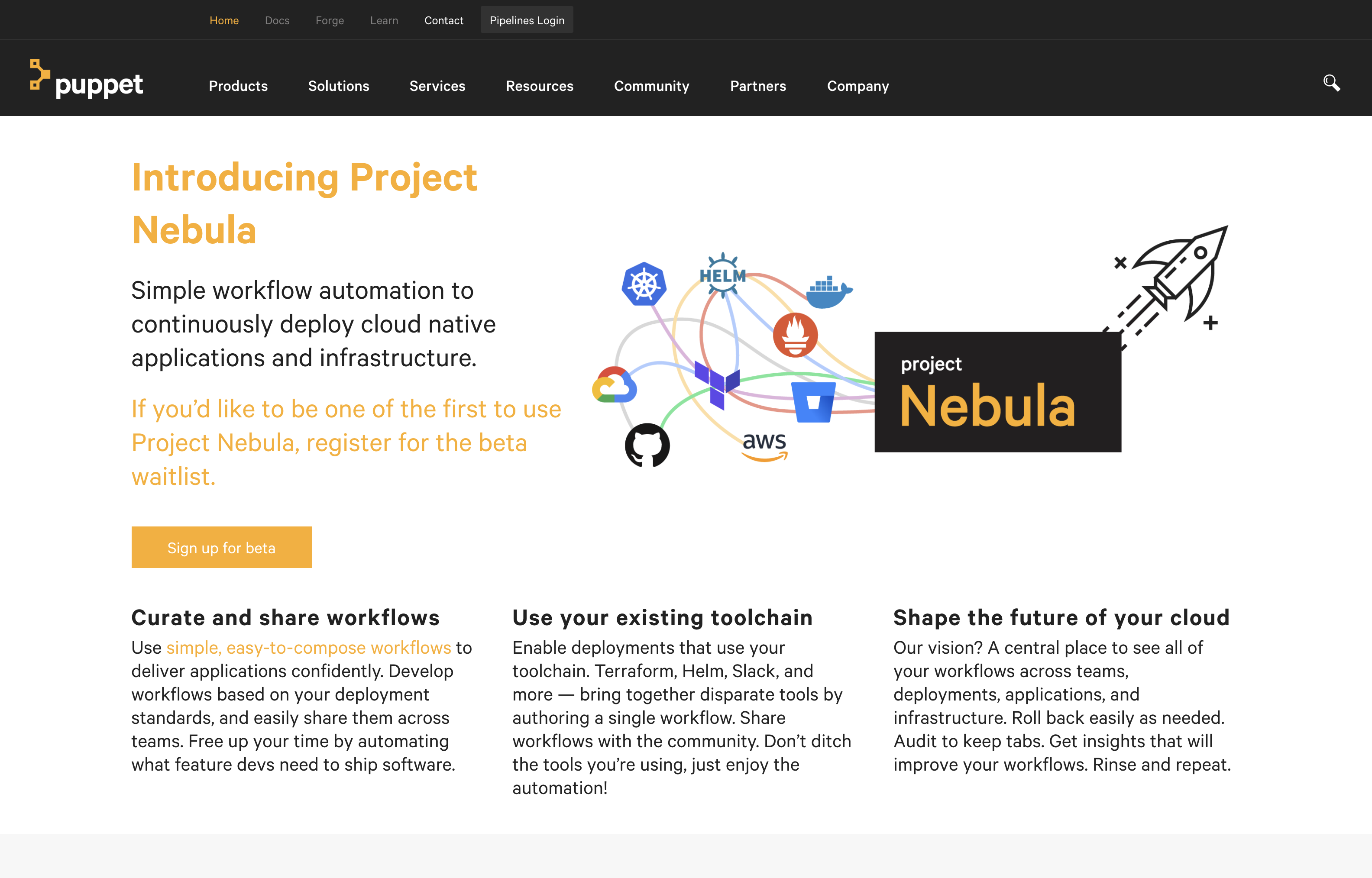 All pages are modeled and structured to be easily editable and augmented, even by non-web-skilled users. We try to incorporate reusable elements from our internal design system where we can.
Building Educational Hubs for Solutions
As part of how we build our domain authority in infrastructure automation and configuration management, we create solutions hubs to house collections of educational and support content. The best way to win the trust of our users is to quickly demonstrate that we know what kinds of problems they're dealing with, both process and code-wise.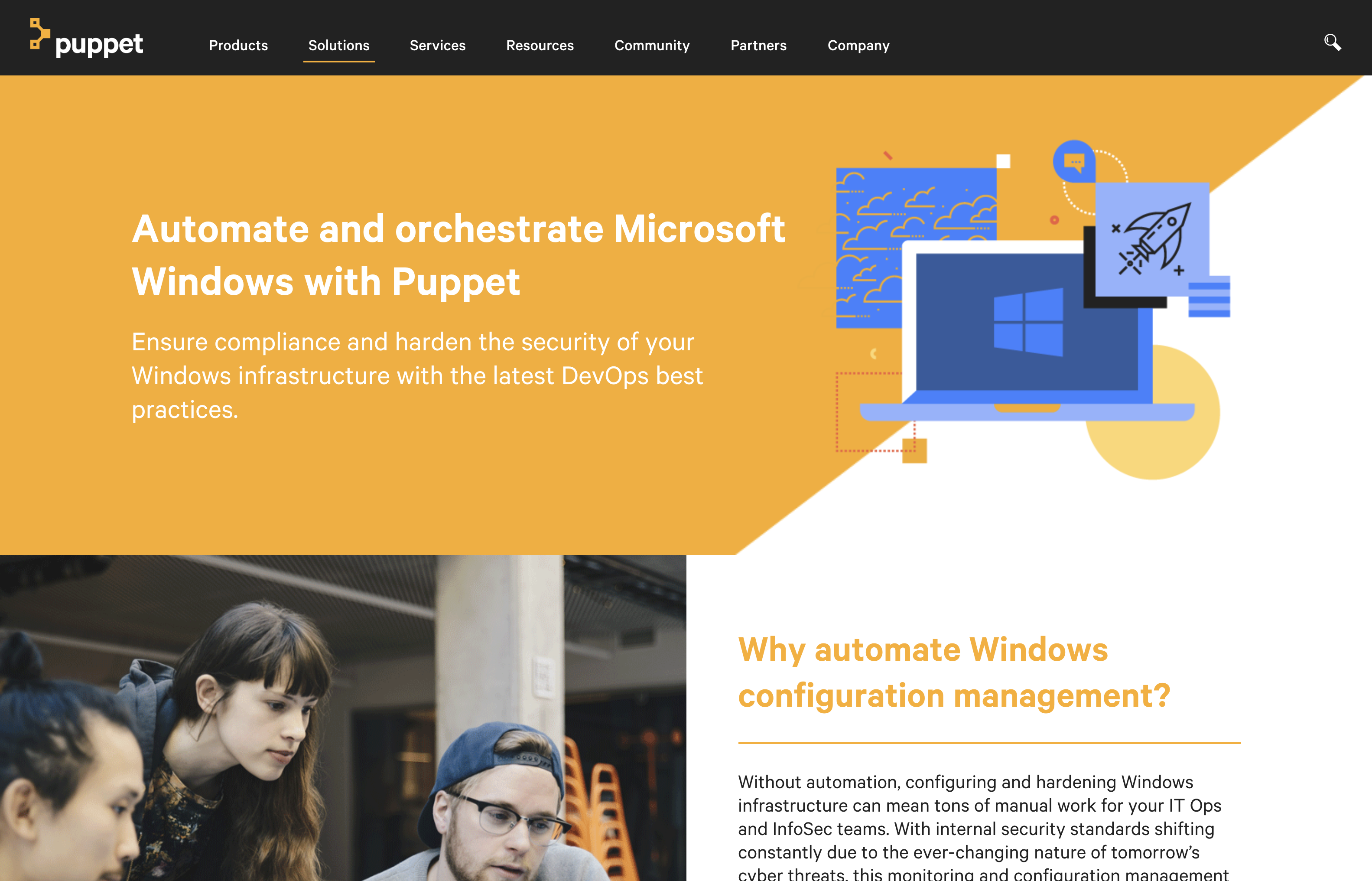 The more visitors we get to the page, the more we learn from our analytics and user-facing teams. The door is always open for iterative improvement with my projects (in an agile manner of course).
Planning the Structuring and Modeling of the Site for Tomorrow
Web development advances quickly and sitting on the same site build only creates opportunity cost. As lead content strategist, it's my duty to properly audit, inventory, model, and structure the new site IA. We're solving for a modern React-driven stack, using WordPress to help teams fill in key/value pairs and content fields, and GatsbyJS to generate a static site. Algolia search will help us speed up how users find our educational content.
I'm using these user and business requirements to shape the most sustainable ways to build, reuse, and atomize content across domains for Puppet's future. NOTE: Sorry there aren't any screenshots here-- it's a little too soon. I'm always down to talk shop though.
Cross-team Collaborations at Puppet
Innovating on how Puppet teaches automation to the industry, building new channels to share expertise, putting our users in the spotlight to drive authentic growth
Planning and Managing Live Stream Content for the 2018 Conference
In 2018, the marketing team changed the format of the annual user conference to become a 24-hour live stream across three major cities around the world. I worked with our users and community to create 40 unique live stream videos and coordinated with the videographers to successfully air the entire show.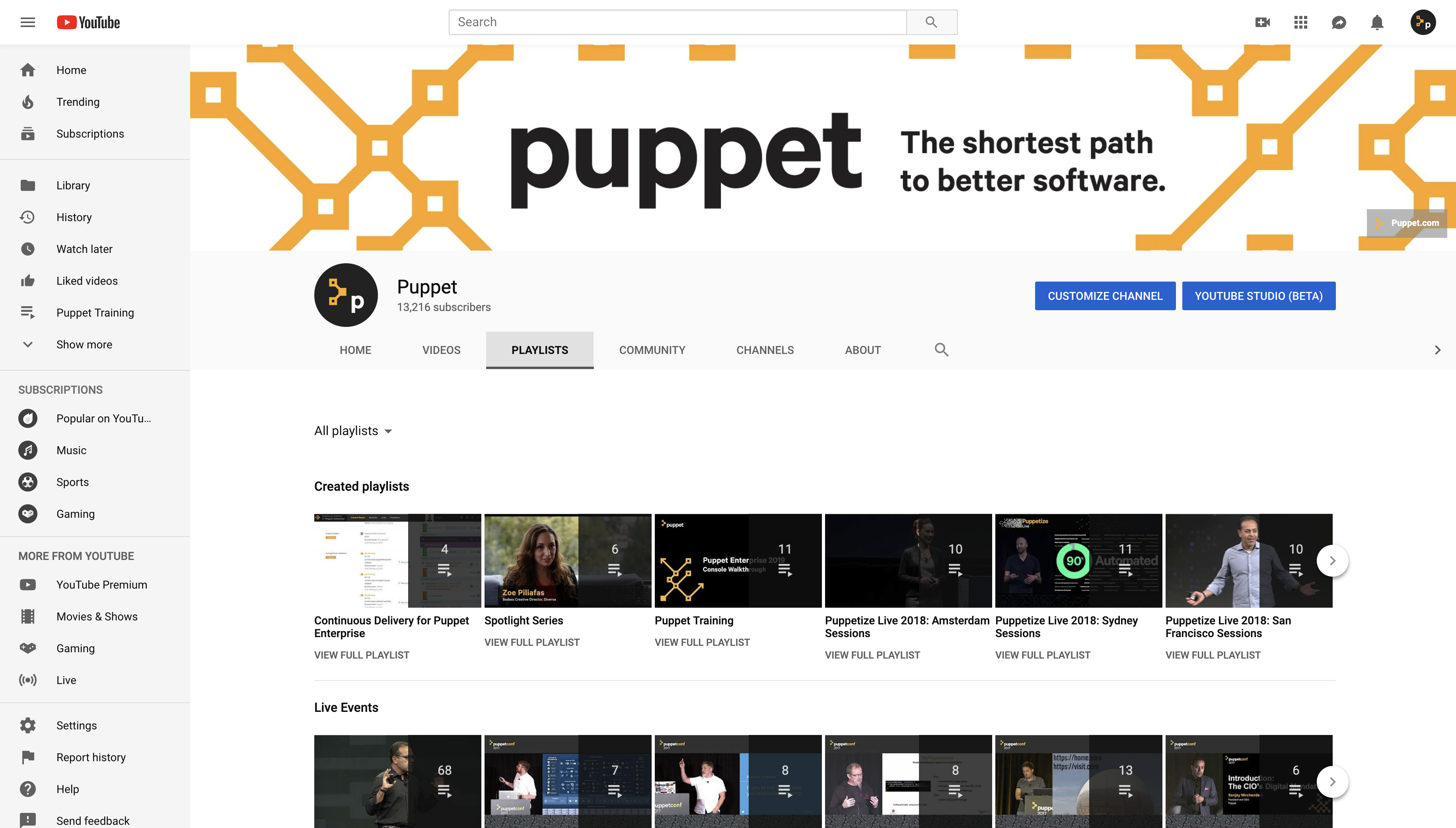 All 40 videos and the numerous main stage streams live on our YouTube channel and have also served as repurposable content for revenue-generation and support purposes.
Leading a Cross-team Project to Teach Automation
Aren't we all kids at heart? I believe that's how we should be able to learn-- with all the wonder and curiosity involved. I created a team of engineers, products, and designers to build a model train to help folks learn about our open source automator called Bolt.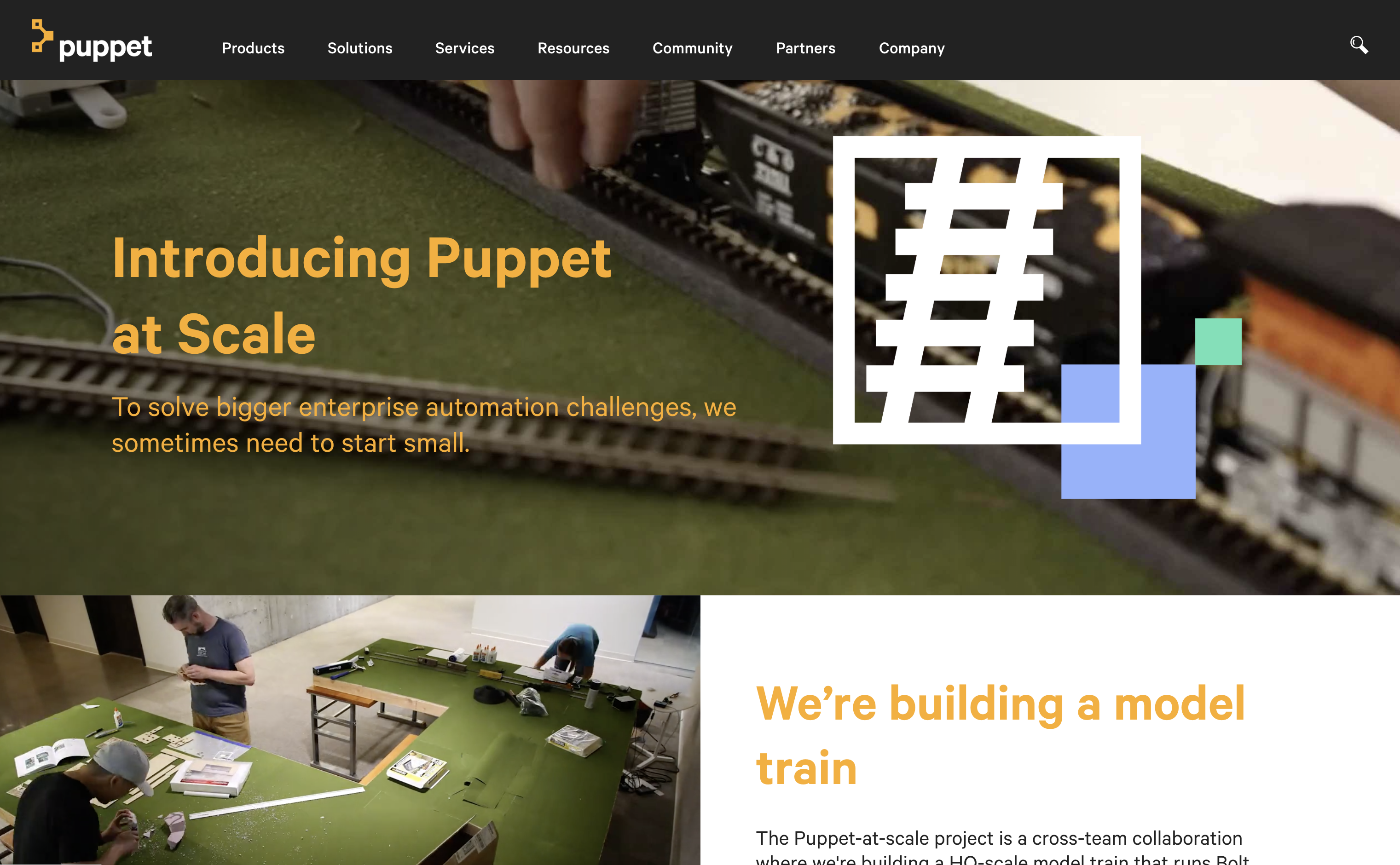 As of August 2019, we're still working on the engineering portion of the train and *can't wait* to invite users to check it out.
Rebooting the Puppet Podcast
After a hiatus between 2017 and 2019, the Puppet Podcast is back with a new name and, soon, a new brand. I partnered closely with my creative director to reboot the podcast to present a blend of products, expertise, culture, and community. If I'm not writing scripts or metadata, I'm part-time hosting and interviewing. :)
Increased organic traffic quarterly, increased page conversions, SEO rankings while lowering acquisition costs, and lowered time to development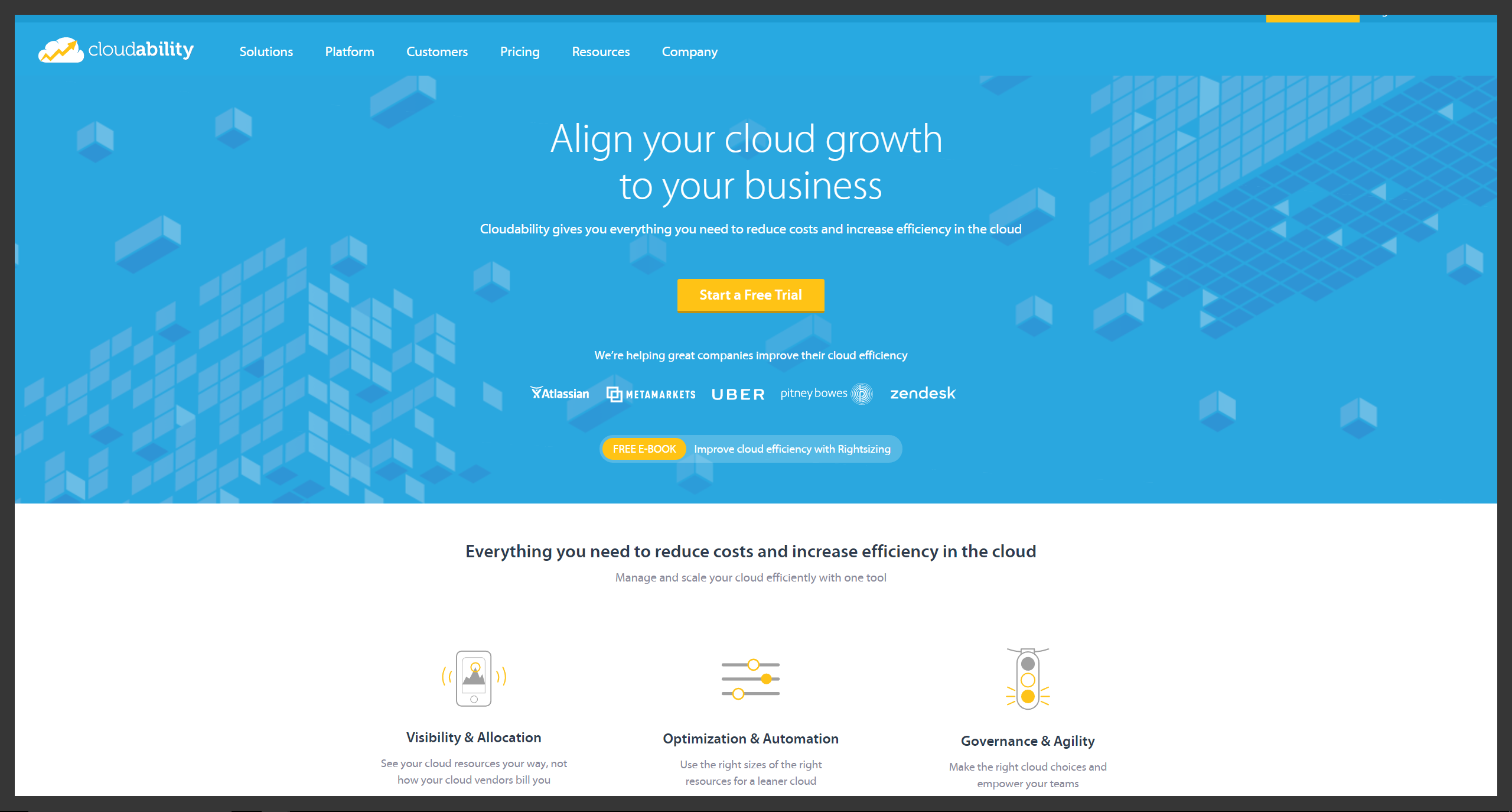 I manage the Corporate Site content that comes in from various teams. This content includes Product, Support, and Sales assets. We constantly experiment with copy, conversion points, and calls to action using data-driven insights.
Corporate Sites can be complex and political. I make sure metrics and feedback are as transparent as possible, so everyone knows why we build the site the way we do. This allows us to optimize how we use this website to drive organic traffic while serving users looking for information about the company and its products.
Structuring for Future Personalization
Sometimes we see that a certain page gets a lot of traffic and it inspires us to improve its conversion rate. We build our pages with future personalization in mind, modeling the site for modular expansion (or contraction).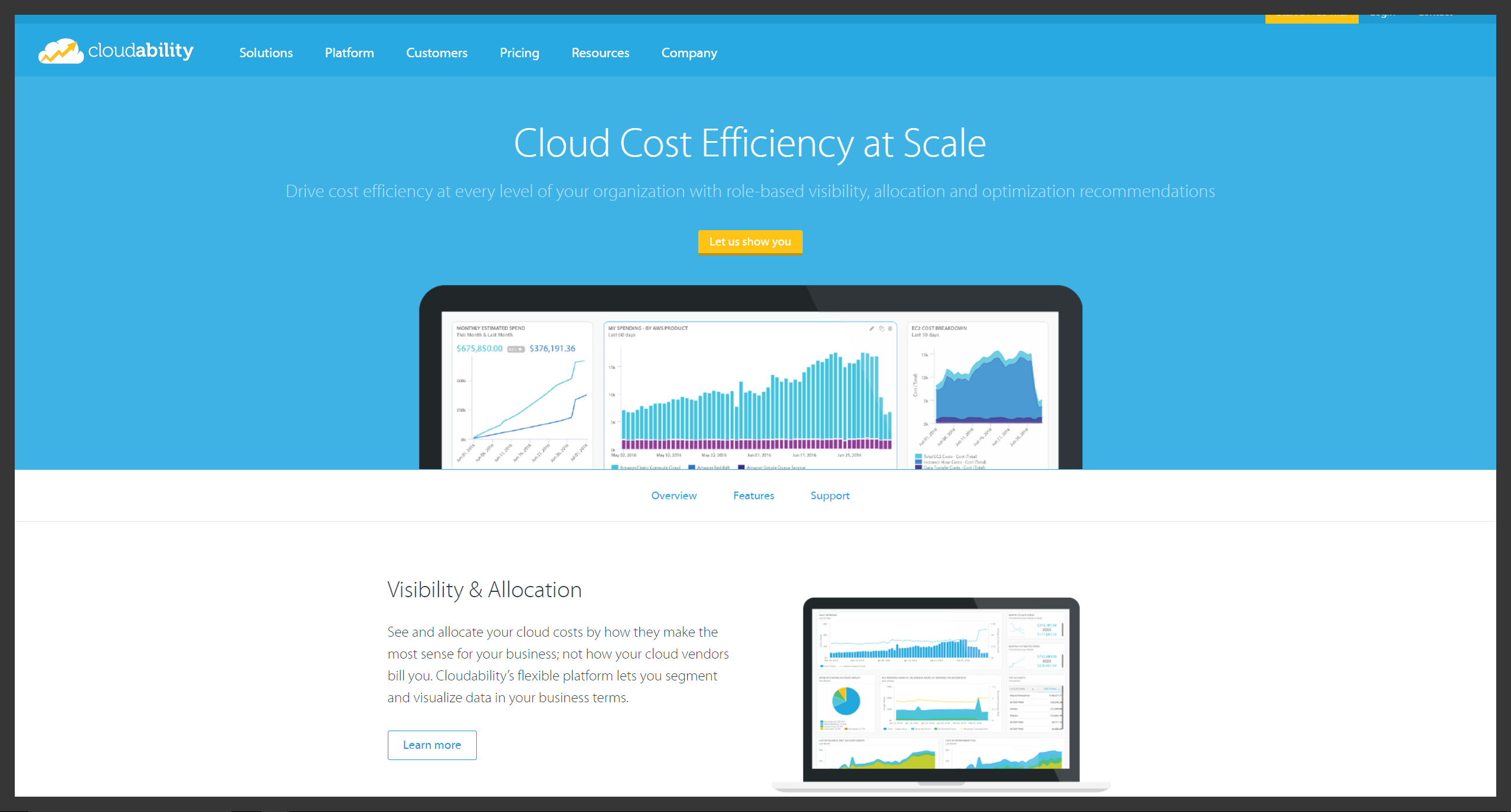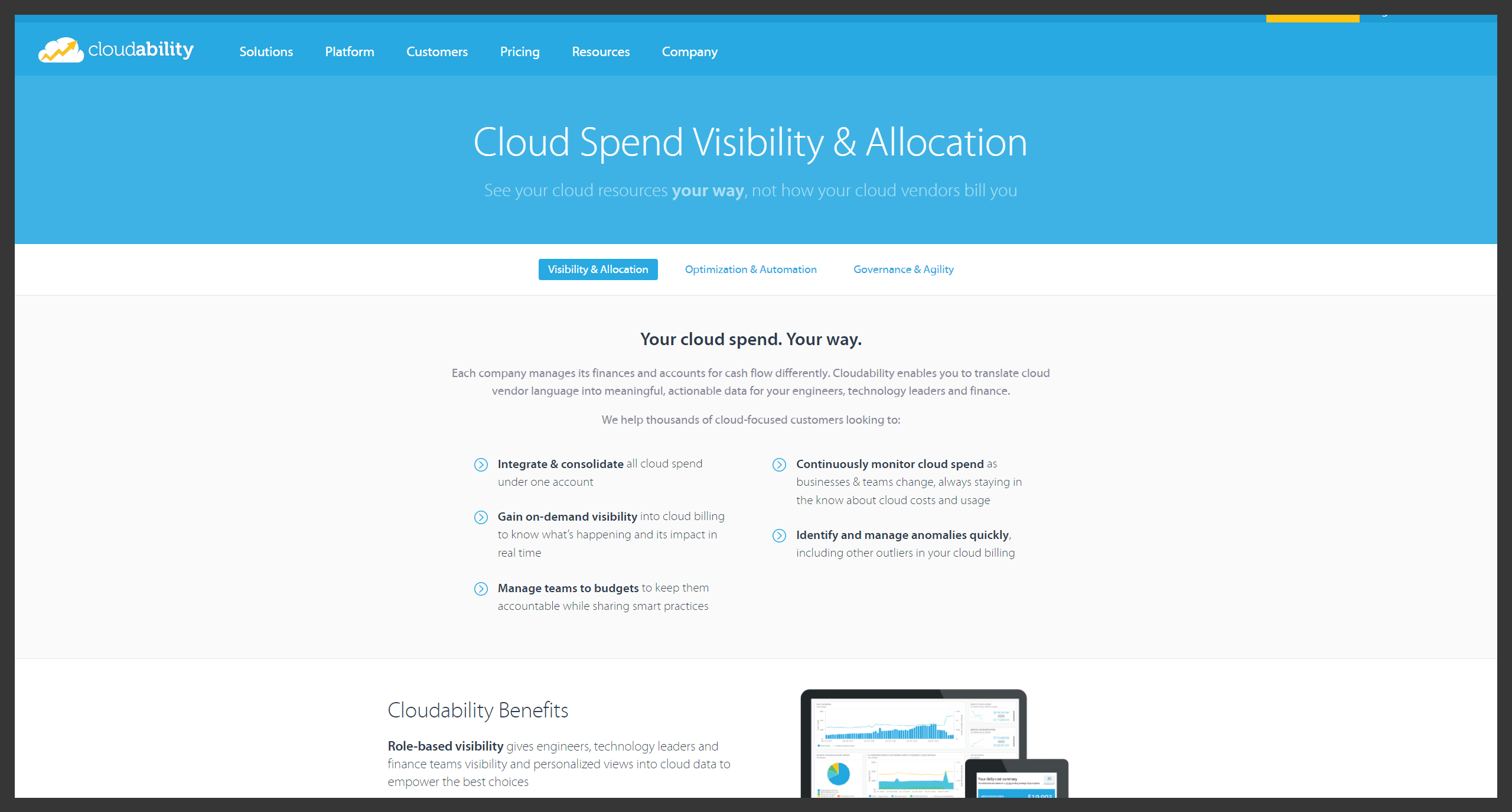 All pages are modeled to integrate with marketing automation-based personalization as well, like the dynamic web extensions of Pardot or Marketo.
Scaling and Sustaining Content Programmatically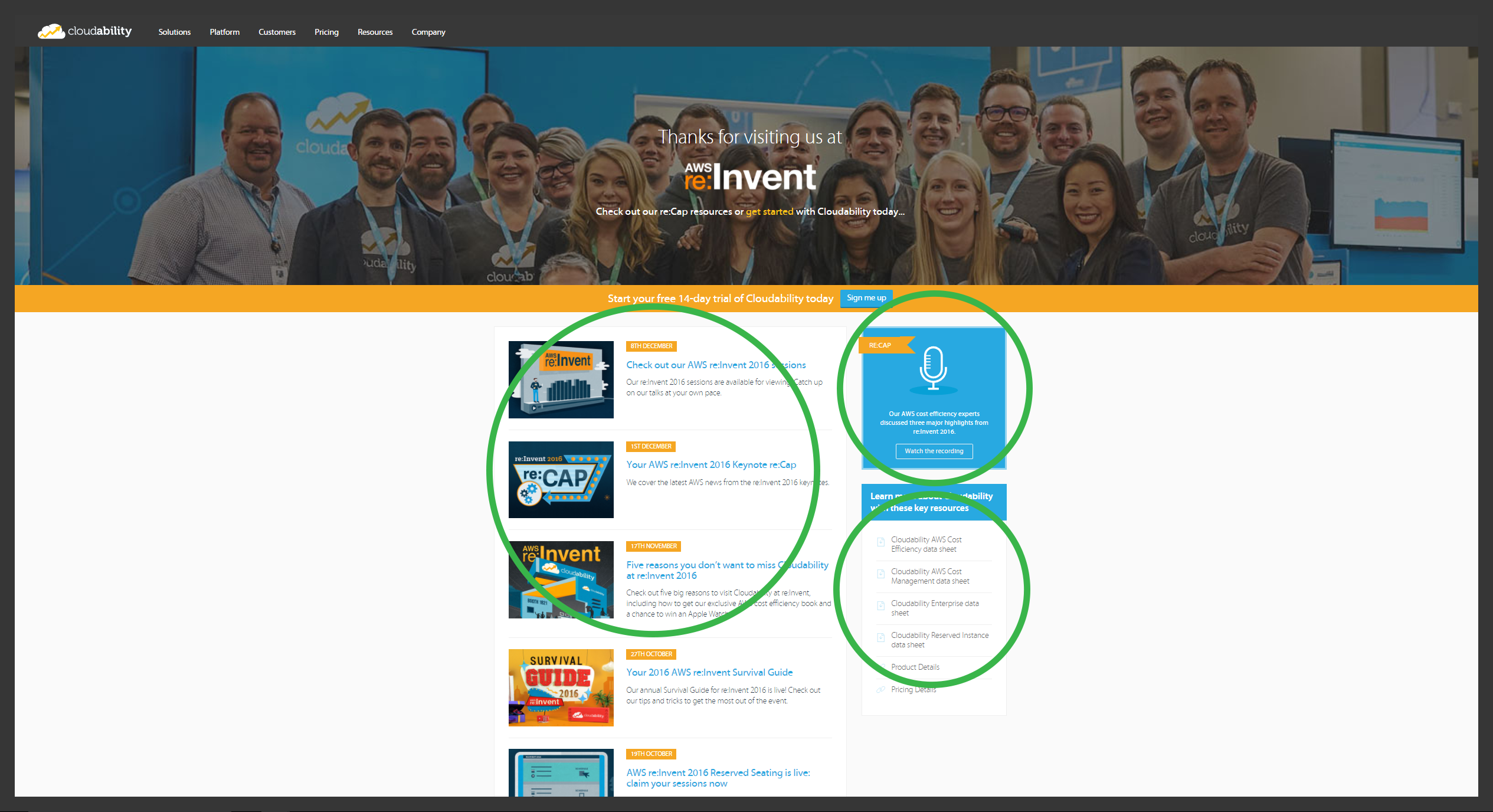 We reduce extra work and add a bit of future-proofing by housing content and data independently of layout where we can. This means editing one master source for content inputs using YML data files and JSON API calls where necessary.
For increased scalability, we store and source content from CDN and API services and repos like Algolia Search and Contentful. When you can source and manage content from fewer places, you can scale and optimize deployment much more.
Keeping the Customer Journey in Mind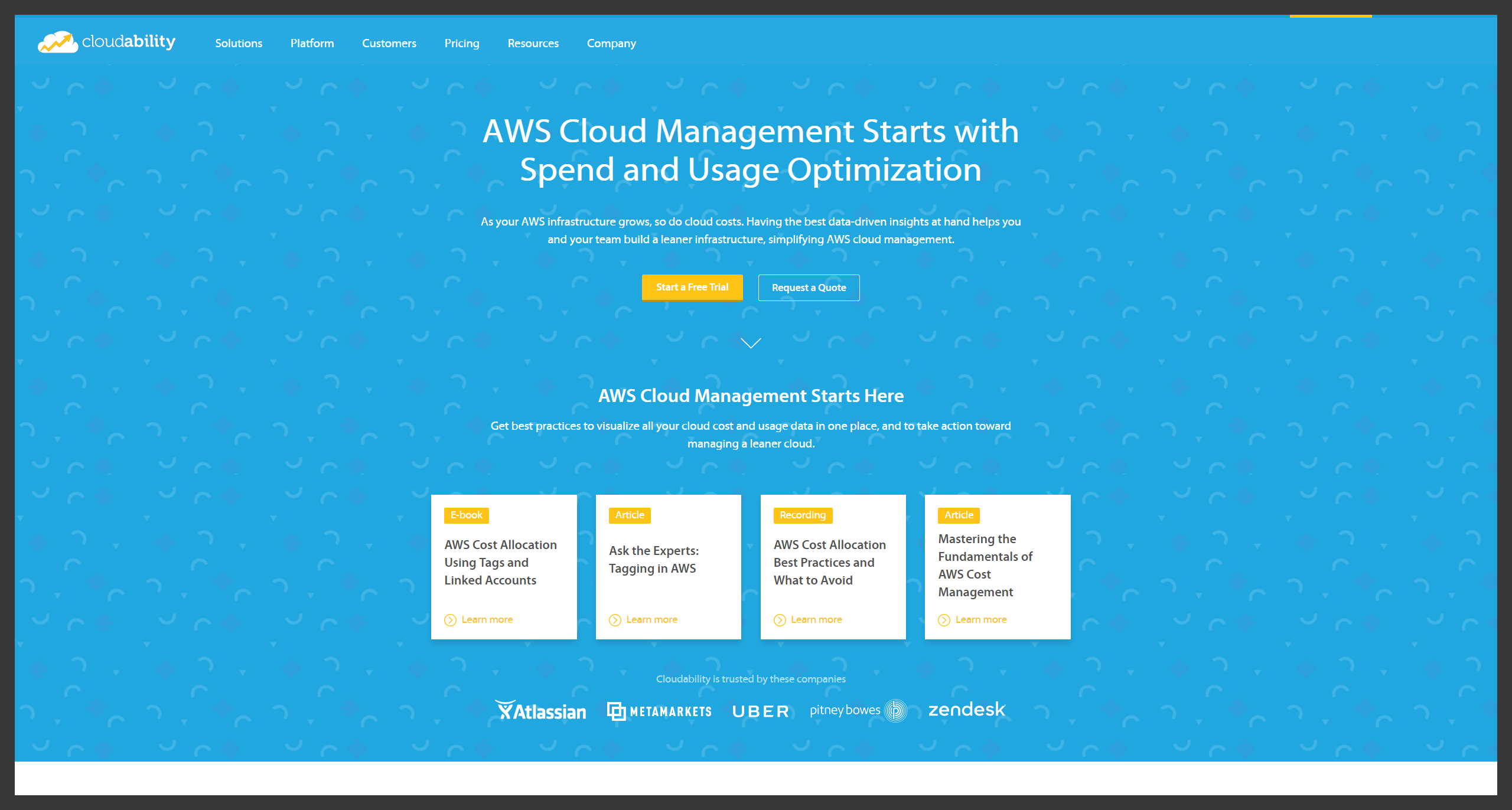 To stay ahead of SEO and SEM, we constantly build and test organic landing pages outside of the main site navigation. We use structured, repeatable content blocks to publish many pages with the least amount of work possible. Using insights from tools like SEMRush and Moz, it's all about testing, learning, and improving to drive business value.
Improving Content Accessibility and Governance
Never create and leave content to fend on its own. Monitoring, measuring, and improving content is what drives business value. We evaluate our content quarterly and make sure our internal deliverables are usable by other teammates to push consistency and quality across the brand.
Cloudability Blog (2016-2018)
Doubled organic traffic from 2016 to 2017, gained industry recognition while building scalable thought leadership and user education medium
I manage, build upon, and edit the Cloudability Blog, our source for early-stage educational cloud optimization content. By making it easy for subject matter experts to contribute to the blog, we've been able to build an industry-renowned resource that's used and adored by Amazon Web Services, Netflix, Intuit, and other cloud-native companies.
Building the Thought Leadership Channel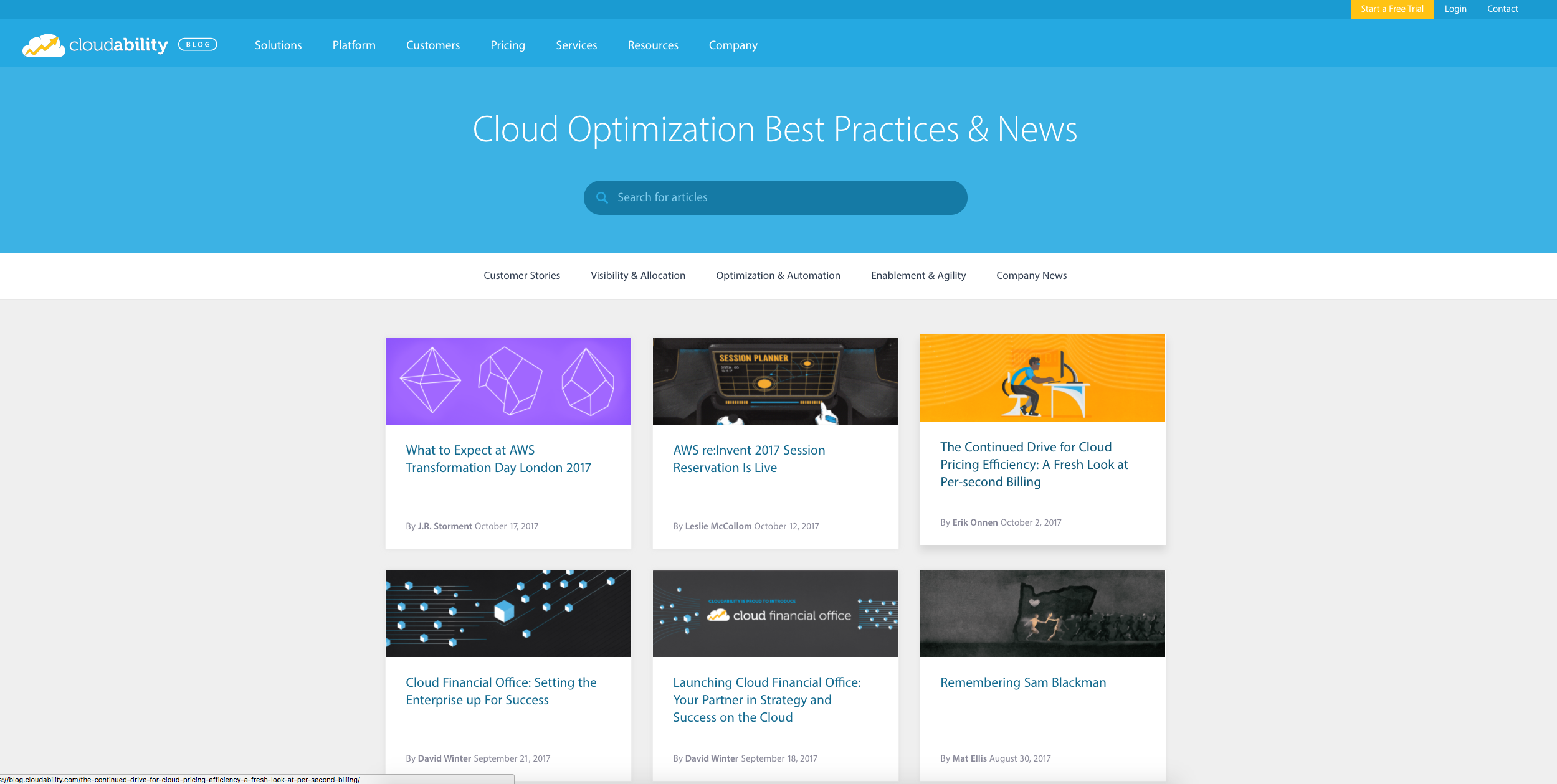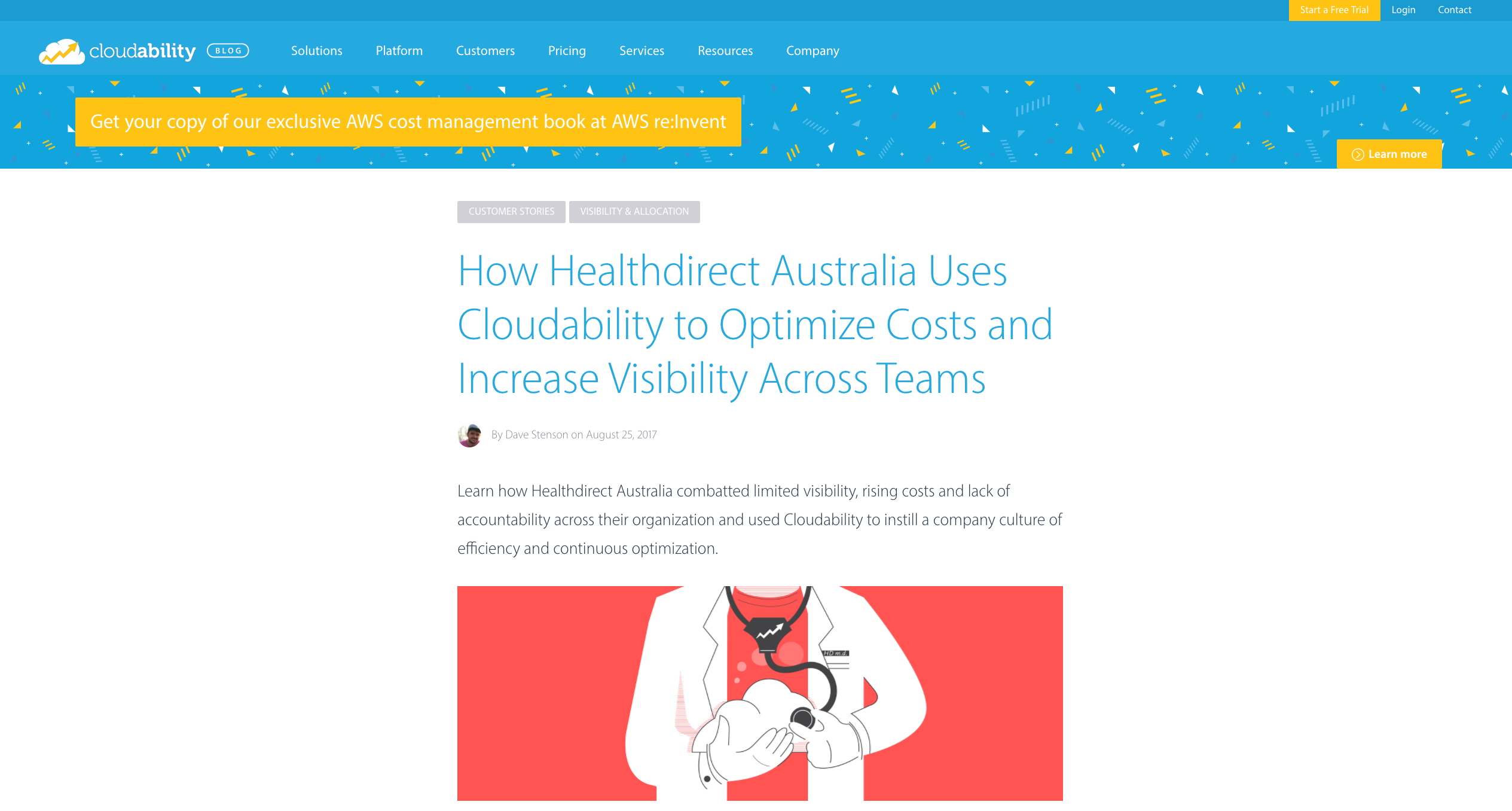 As market leaders, we have all kinds of insights and knowledge to share. We make it easy for engineers, business leaders, external contributors, and customers to share their experiences and guidance on the blog.
Designing Editorial for Conversion
While we love to educate and inform our audiences, we need to solve for business value on the blog. We incorporate many interaction elements for visitors to learn more about Cloudability, try it out, or to go to our Corporate Site.
Structuring Taxonomy to Achieve Business Goals
Startups shift and change all of the time. By keeping content organized at the meta and microdata level, we can zig and zag along with shifting business objectives as well as power content personalization. This greatly assists with any kind of content migration big or small.
Cloudability Product Documentation and Support Hub
Integrated web content with support content to extend customer experience and messaging consistency
We extend our content specialization to assist the Product and Customer Success teams with the organization and accessibility of documentation.
Integrating Support Content with Editorial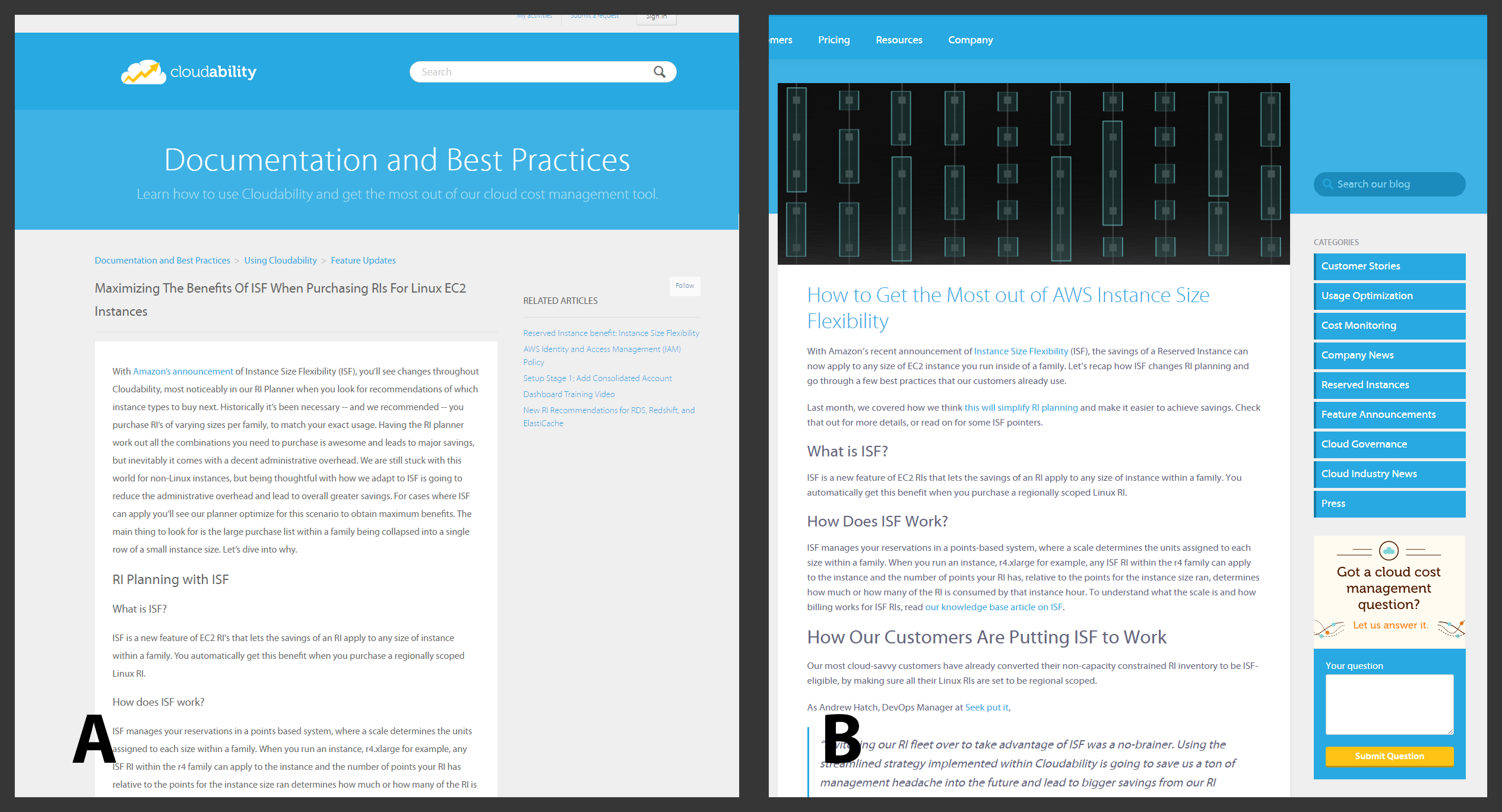 We maximize product awareness and education by integrating knowledge base content into our Corporate Site and Blog where we can. This leads to better comprehension around product and feature releases or updates, and empowering end users to get the most out of the app.
Extending Content to Inspire Training
A sustainable content strategy is all about reducing work and maximizing value. Our content is packaged up across media to help other teams, like Training & Education, build excellent content while reducing as much ramp-up time as possible.
Lytics Website & Blog (2015-2016)
Launched new blog for fledgling market to gain thought leadership footprint, increased organic traffic to (then) latest iteration of website, gave potential customers a look at personalized content at work
Personalizing the Website & Blog
We used a cross-channel content strategy to kick off Lytics' third version of its website and first version of its blog. To drink our own personalized content champagne, we structure the whole site to cater to the Lytics personalization platform. In short: we could deliver the right content to the right people at the right time throughout the site via adaptive content blocks.

I contributed content to engineering in the form of integrations pages that help outline how Lytics fits in with other SaaS tools. In return, those engineers and product folks often contributed back to the Blog.
Our personalized web blocks were based on real-time audience profile and adapted to the kind of visitor that viewed the pages. Read more about this via our blog coverage of it. I also got to speak with some folks interested in this technique at a local agency Meetup in PDX.
Improving App Microcopy/UA/Content Extensions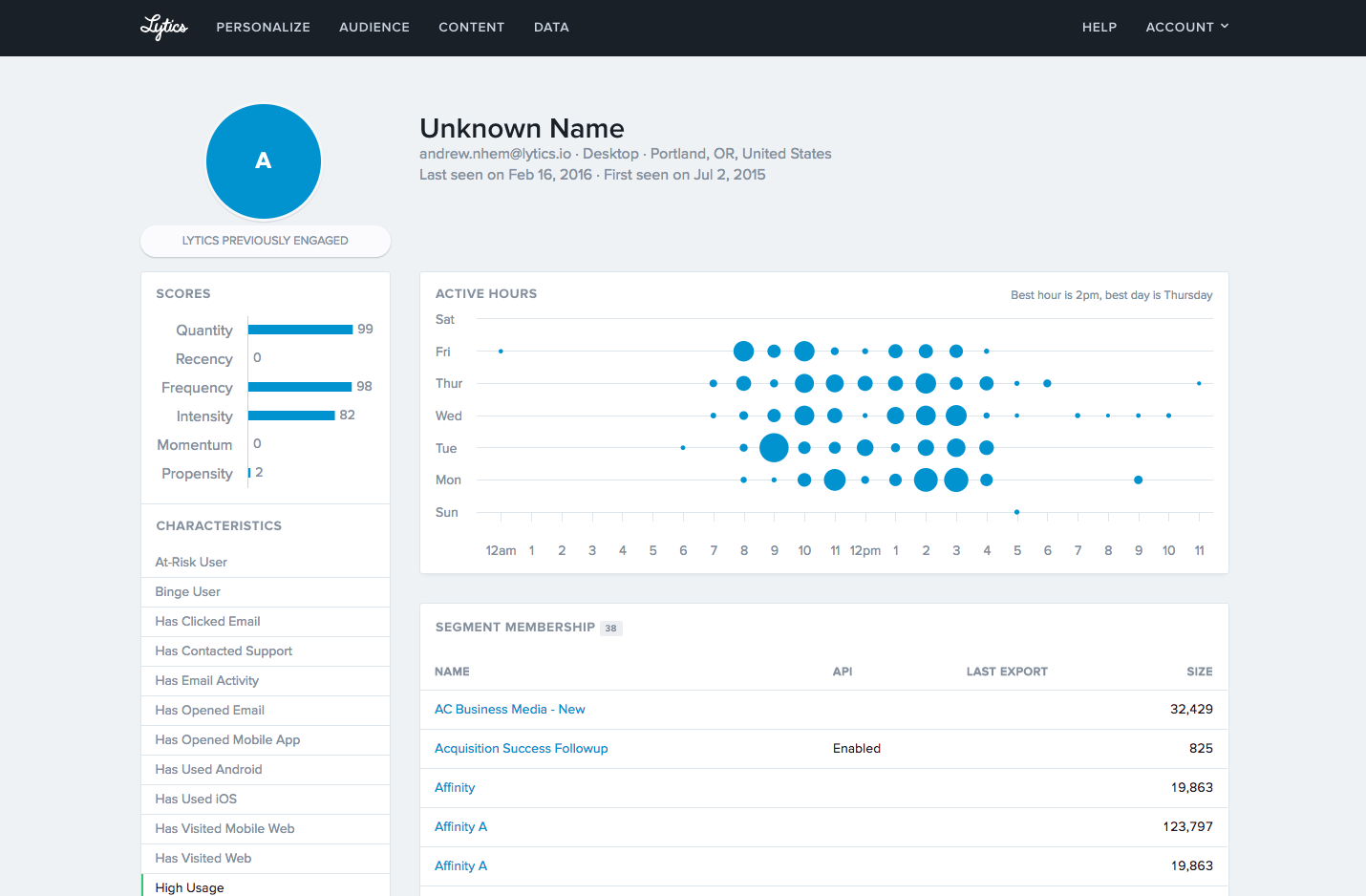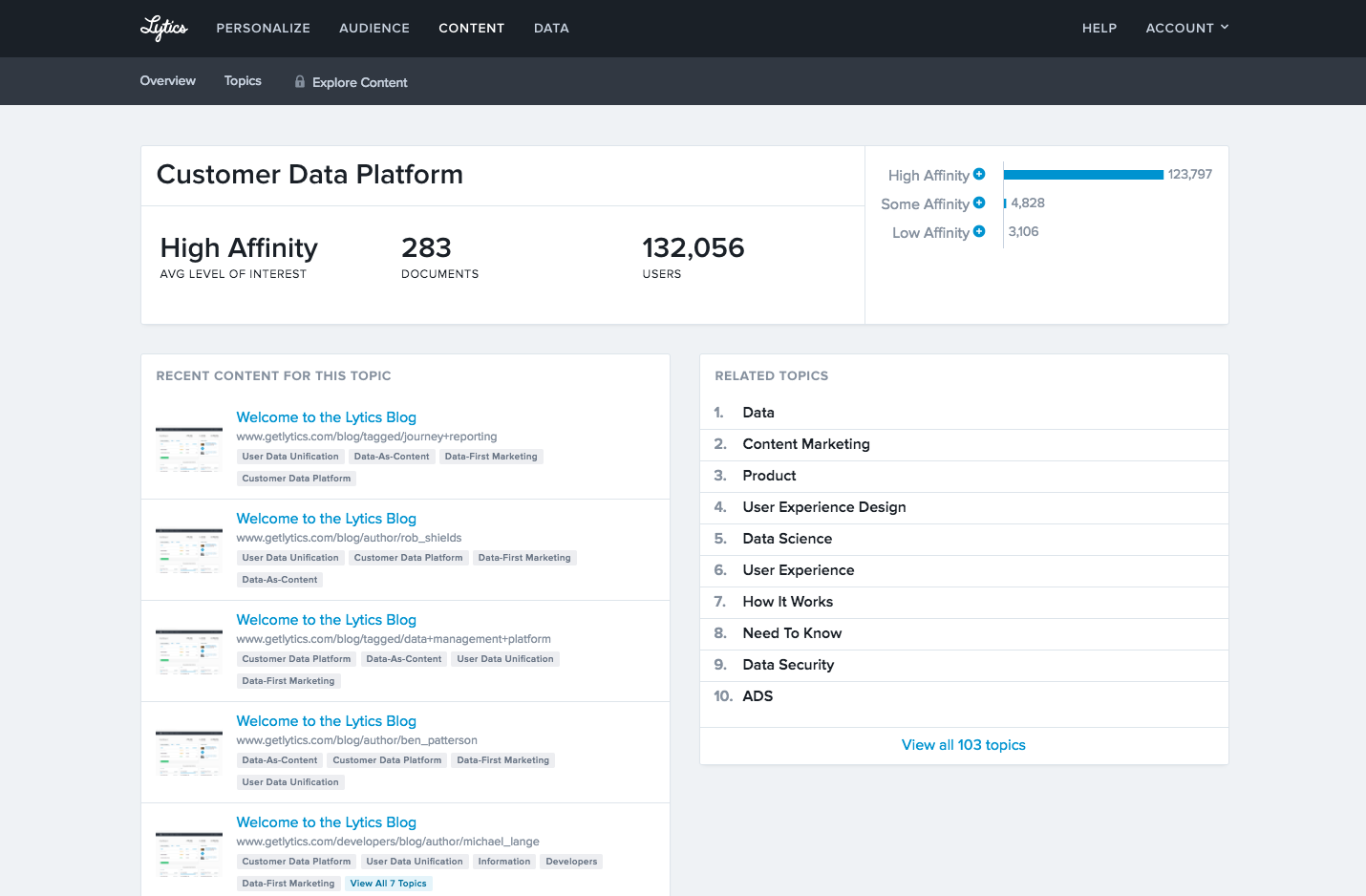 To build consistency across the Lytics customer experience, I contributed copy, microcopy, and user asssistance for the Product Team to use in the app. We came full circle by building in means to reference integration and support content within the app to help users.
Babcock Jenkins (2014)
Served client content needs, won new and extended business, educated clients on modern content strategy principles, trained internal content and design teams
As the Content Specialist, I assisted account teams in building better content strategy recommendations for brands like IBM, Brocade, Google Cloud Platform, and Microsoft Office 365. This led to improving the content strategies for accounts (and winning new scopes or work), or helping win net-new business for the agency up to $1.5MM.
Client deliverables included: content audits, content inventories, web content modeling, web copy, ad copy, on-site client training, demonstrations and pitches, and internal agency training on content strategy.
Stephouse Networks, acquired by WiLine in 2019, (2008-2014, contractor and full-time)
Built web presence for local and international comapnies, increased revenue three years straight, lowered costs of support, trained internal teams to build documentation and improve customer engagement and satisfaction
As the Content Strategist, I wrangled content across the customer journey, building the corporate site, running the blog, building support pages and internal training, and maintaining this content throughout a period of business growth. For the international side of the business, I assisted in improving the usability of our Customer Relationship Management system, Wireless Apps, and the interfaces for wireless tools sold worldwide.