Saucony strides into fantastic content
Labeled under: Content Strategy
Of the random things I enjoy doing, my most ravenous addiction is running. Now that I live in one of the most beautiful parts of Portland, I can't wait to hit the pavement after a day of work, or on a long weekend course.
Naturally, I take moments out of my day to research what I'm into. How do I play a better game of #mtg? How do I make sweet potato french fries from scratch? How do I improve my pace and stride?
We consumers are a curious bunch. Great purchases can be made when this curiosity is sated by beautiful, enriching content. Saucony is a solid running shoe brand with a killer web content strategy demonstrated by their handful of educational modules.
They speak to my sole.
If you haven't been to the Saucony site, take a moment to check it out. Specifically, take a look at its headlining "Step into Minimalism" content. It's a primer about minimalist running and how to slowly adapt your feet to the training.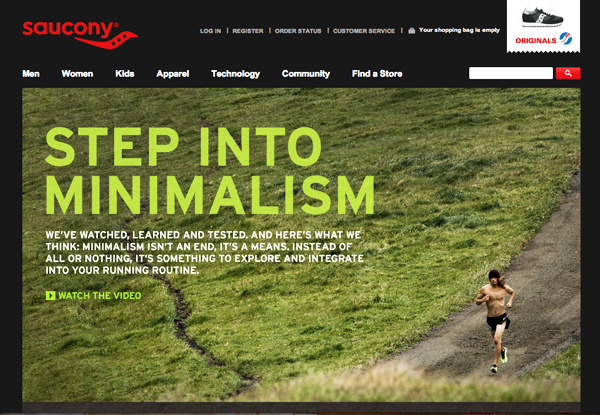 The opening banner turns into an introductory video about their minimalist running shoes. The content goes beyond talking about shoes though. We get a surface-level explanation of the risks of minimalist running and how Saucony's line can prepare runners for a minimalist style. Scrolling past the fold reveals their three shoes.
Saucony definitely knows its audience. If you aren't too knowledgable about running or feet, there are probably a few words to look up. Past that hurdle, their minimalist page is rich and chock full of great content to sink dig our heels into: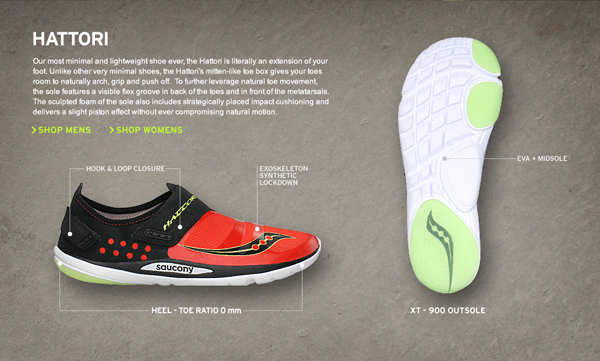 These make my Grid Cohesions look massive (source: saucony.com).
You won't see any "BUY NOW" buttons or anything like that. If the reader is ready, then they're ready. If they're pondering the benefits of minimalist running, the site leaves them with plenty of starter content to begin their extensive research.
What I consider valuable about this content:
It's educational: There's an opportunity to learn about minimalist running and its risks and rewards.
The tone is personable: Spencer White, Head of Biomechanics, leads the viewer through the minimalist concept and shoe line via video. He's smart. You can trust the guy.
The minimalist angle is one of a handful of other modules on the Saucony site. There's a trail running section, shoes & apparel of course, and a little gimmicky "shoe recommender." Is their content strategy a gift from the gods? Probably not. It's beautiful though in the way each of the modules seam in and out of one another.
It's an experience. I don't feel like I'm shopping. I feel like I'm taking in the content to make an informed purchase. I can't ask anymore of great web content.