GSSI Labs and SYTYCD do smart content
Labeled under: Content Strategy
I don't follow the Gatorade brand much, other than when I actually need to buy a bottle after a difficult run. Then I am on the hunt for that iconic capital "G," cracking the thing open in the supermarket to chug before tendering payment. Oh so good.
This post contains my observations as a professional who plays with content on a daily basis. I'm not a dancer. I do consider them athletes. I do recognize how passionate that crowd can be. Remember though– if you continue reading, this post is about the content, ok? Not dance.
Now, for my observations on Gatorade and their dance content.
On So You Think You Can Dance the other night, the contestants visited the Gatorade Sports Science Institute (GSSI) Labs. Each of them went through a handful of tests to evaluate their athleticism. Each of the remaining ten contestants were ranked among professional athletes in terms of overall athleticism. It was a remarkable way to educate viewers and break the misconceived stereotype that "dancers are not athletes."
I wish I could pull the video up from YouTube or something, but I can't find it anywhere. It was some great content for the show and for Gatorade. If you find it, please let me know in the comments.
Where will they take it next?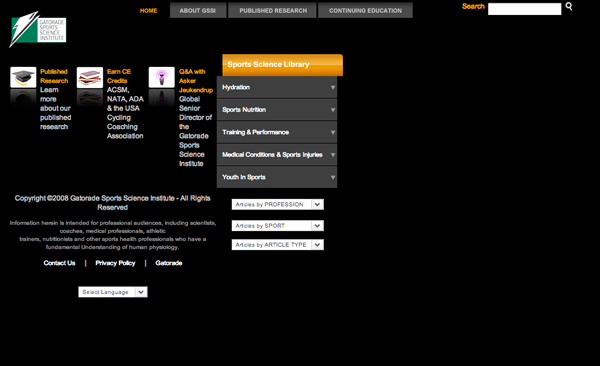 I went over to the GSSI site to read some of the articles. You can learn more about GSSI's mission as well as read a few things about its staff. The team contains scientists and research technicians who run tests and collect data from many professional athletes across the world. You can find a trove of research papers about their various tests. Check it out for yourself, after reading my post and leaving a comment, of course.
I was disappointed to not see more dance content on the GSSI site after watching such a great segment about GSSI on SYTYCD. I'm curious as to whether or not this is part of the content strategy for Gatorade. Perhaps dance research is underway and results have yet to be processed.
Note that this week's segment was not the first time Gatorade teamed up with SYTYCD. Last season's winner, Lauren Froderman, was named Gatorade's first dance athlete, inspiring her peers and younger dancers across the nation.
If Gatorade or GSSI continues to create content about the athleticism of dancers, how will they present it to their audience? I wonder how it will be received overall?
What I would like to see:
An expansion of Lauren's profile to demonstrate more dancer athlete content.
More mainstream print and TV content featuring Gatorade's dance athletes, assuming that another one will be named after this season of SYTYCD.
Something to think about: With how frenetic and graceful dancers portray themselves on the floor and on the web about their art, how will marketers, like Gatorade's team, continue to respond to their newfound audience?
The educational content as shown on FOX this week was a smart move. Let's see how Gatorade builds on that momentum.