Content Modeling -- Why It Matters and How to Do It
Labeled under: Content Strategy
The better we can model our content from the get-go, the fewer problems we'll encounter as our projects grow. The less trouble we run into during content maintenance, the quicker we can also get to value for our teams or business.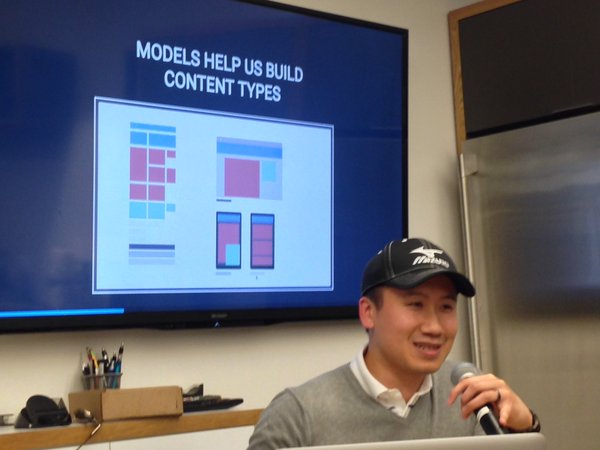 I was super flattered when the CSPDX crew asked me to talk about content modeling for one of our meetups. Putting my IA/content hat on, I walked through examples of content models and what kind of potentials they can unlock!
EDITOR'S NOTE: During some migration of my own content, I've misplaced the slides :( I'll find them soon.
Here are some kind Tweets from folks who attended the event:
"No one will judge your content model, but they will care about what comes of it." Great ideas from @andrewnhem at #cspdx @CS_PDX

— Rachel Peters (@rmbpeters) April 14, 2016
Content models are meant to be tested, broken, and improved - @andrewnhem @CS_PDX #cspdx

— Big Leap (@BigLeapMKTG) April 14, 2016
The better we model our content, the more mileage we get from the content we produce. @andrewnhem #cspdx

— Carmen Hill (@carmenhill) April 14, 2016
Content strategists sometimes have to be peacekeepers. @AndrewNhem #CSpdx #ContentStrategy Meetup

— MarciaRieferJohnston (@MarciaRJohnston) April 14, 2016
"This is me trying to buy 20 senior citizen tickets for Captain America: Civil War." — @andrewnhem, on content models at #cspdx | @CS_PDX

— bradley fields (@bradleyfields) April 14, 2016
Looking Forward to Learning More from Everyone
The questions that I received were great and really got me thinking about other ways to improve my own modeling. It's this kind of sharing of what's "under the hood" and asking one another the hard questions that lets us all grow.
I can't wait for the next event!